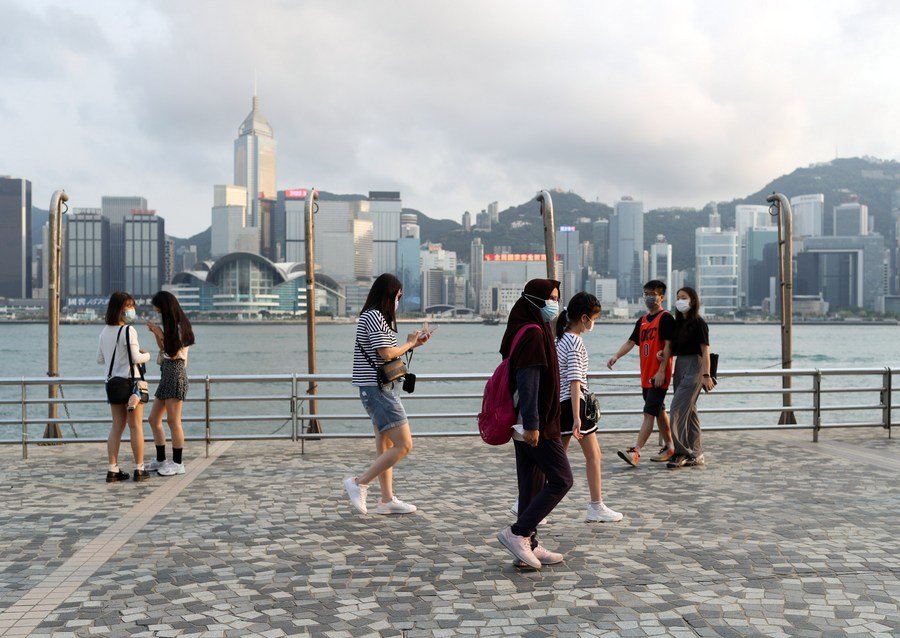 HONG KONG - Hong Kong's economy surged by 7.8 percent year on year in the first three months of this year, bringing an end to prolonged contraction since the third quarter of 2019.
The stellar figure, rebounding from a 2.8-percent decline seen in the October-December period last year, was mainly powered by fast-recovering exports and the low base of comparison a year ago, the Census and Statistics Department said Monday in a statement.
On a quarter-to-quarter basis, Hong Kong's gross domestic product (GDP) rose by 5.3 percent in the first quarter.
The global financial center had been reeling from the double whammy delivered by social unrest in 2019 and the COVID-19 epidemic. Its GDP suffered the biggest-ever decline of 9.1 percent in the first quarter of 2020.
The sharp rebound in the first quarter mainly reflected the strong growth of exports of goods amid the global economic recovery led by the Chinese mainland and the United States, a government spokesman said.
Analyzed by major GDP components, goods exports soared by 30.6 percent over a year earlier in the January-March period, up significantly from an increase of 5.5 percent in the fourth quarter of 2020.
Some other economic indicators also improved year-on-year in the first quarter. Private consumption expenditure increased by 1.6 percent as against a 6.9-percent decline three months ago, and fixed capital formation gained by 4.5 percent, up slightly from 3.6-percent growth a quarter earlier.
While getting off to a strong start in 2021, Hong Kong still faces a bumpy road ahead.
The recovery was uneven and the economic activity was still below the pre-recession level as the epidemic continued to weigh on consumption-related sectors, in particular tourism, the spokesman said.
Hong Kong's inbound tourism remained at a standstill amid stringent travel restrictions and the labor market, though witnessing slight improvement recently, was still under great pressure. Consumption, a major pillar of the economy, was far from a full recovery.
If the local epidemic remains well contained, business and consumer confidence can hopefully have a broader improvement later this year, the spokesman said.
It is thus essential for the community as a whole to spare no effort to keep the epidemic under control and to ensure the success of the COVID-19 vaccination program, he added.
As Monday's release was advance estimates, the revised GDP figures and the economic forecast for the full year will be published on May 14.
Source:China Daily [2021-05-03]