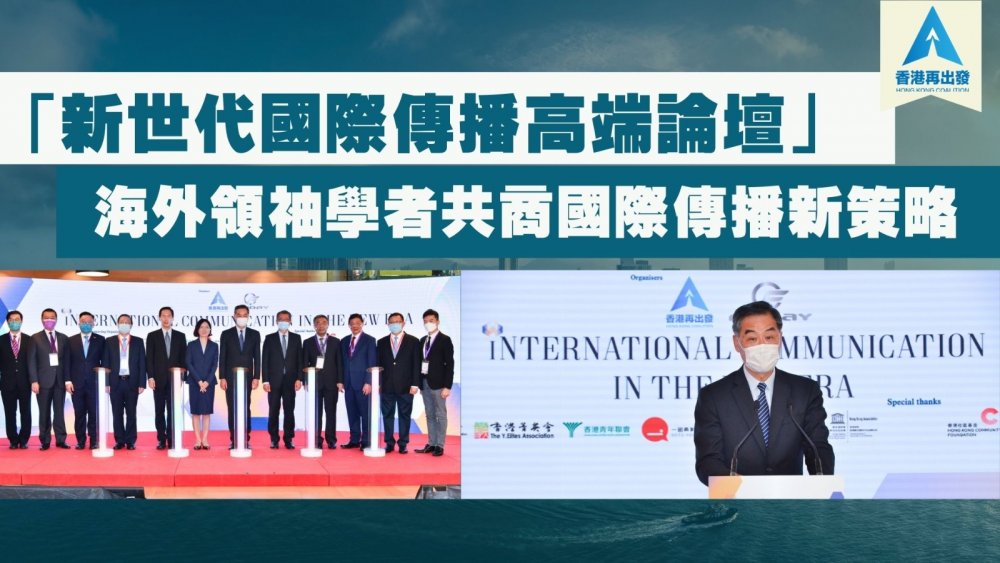 香港再出發大聯盟及FridayCultureLimited(蜚聲文化)主辦的「新世代國際傳播高端論壇」已於5月31日(今天)順利舉行。是次活動的主禮嘉賓包括中國人民政治協商會議全國委員會副主席梁振英先生、香港特別行政區政府財政司司長陳茂波先生、中央人民政府駐香港特別行政區聯絡辦公室副主任盧新寧女士、中華人民共和國外交部駐香港特派員公署副特派員楊義瑞先生、香港特別行政區行政會議召集人陳智思先生及FridayCultureLimited(蜚聲文化)主席胡曉明博士。並由FridayCultureLimited總編輯Mr.NuryVittachi及鳳凰衛視新聞副總監黃芷淵女士擔任大會司儀。
梁振英先生於主題演講【香港在國家形象建構中的使命和角色】中表示:「中國的故事不應該只關於政治。國際政治在許多情況下只是一場零和博弈,而商業社會則是擴張共融。香港肩負著獨特的使命,在衆多國際觀眾感興趣的中國議題裡,香港可扮演著更為獨特的角色。我們應該面向全世界,全面講好中國的故事。讓世界看見真正的中國面貌,聽見不同的聲音。這個國際舞台就由香港來擔當。」
胡曉明博士致歡迎詞表示:「生活不應只是一場零和博弈:只有一個贏家,其他人只能輸。我們都能贏,生活理應如此。FridayCulture是一個媒體集團,它以一種幽默、積極的方式表達文化多樣性、促進和平、分享深刻故事。我們以Friday命名是由於週五通常以朋友之間的愉快對話結束。以Culture命名是由於我們相信大眾的喜愛十分多元,不只關心政治化的兩極議題。」
是次論壇分為兩部份,論壇一聚焦在香港,主題是【認識國際舞台上多樣化的香港】,由南華早報資深編輯MrYonden主持,分享嘉賓包括:原香港浸會大學協理副校長楊志剛先生(預先錄影)、恆隆地產董事長陳啟宗先生、英國電影導演柯文思先生(線上)、Founder&CEOofCulture-plusAsia,MrJulien-Loïc-Garin及蘭桂坊集團主席盛智文博士。
論壇二聚焦說好中國故事,主題為【如何在兩極化的世界說好中國故事】,分享嘉賓包括:遠東發展有限公司主席兼行政總裁/有線寬頻通訊有限公司主席邱達昌先生(預先錄影)、聯合早報副總編輯韓詠紅女士(線上)、信德集團行政主席兼董事總經理何超瓊女士、觀察者網創辦人李世默先生(線上)及香港大學政治與公共行政學系副教授閻小駿博士。活動尾聲由香港再出發大聯盟副秘書長黃英豪博士發表總結發言,整個活動亦圓滿結束。
線上直播:
FridayCultureLimited(蜚聲文化)https://www.facebook.com/FridayCulture
香港再出發大聯盟https://www.facebook.com/HongKongCoalition
"International Communication in the New Era" Forum
Worldwide leaders and scholars meet on New Strategies in International Communications
(Hong Kong, 31 May, 2021) The "International Communication in the New Era" Forum, jointly organised by the Hong Kong Coalition and Friday Culture Limited, was held on 31 May (Today).The Forum was officiated by Mr. Leung Chun-ying, Vice Chairman of the National Committee of the Chinese People's Political Consultative Conference; Mr. Paul Chan, Financial Secretary, The Government of the HKSAR; Ms. Lu Xinning, Deputy Director, Liaison Office of The Central People's Government in the HKSAR; Mr. Yang Yirui, Deputy Commissioner, Ministry of Foreign Affairs of China in the HKSAR; Mr. Bernard Chan, Convenor, Executive Council in the HKSAR and Dr. Herman Hu, Chairman, Friday Culture Limited. Emcees of the event were Mr. Nury Vittachi, Managing Editor, Friday Culture Ltd., and Ms. Jenny Wong, Deputy News Director, Phoenix TV.
"The China Story is not just about politics. It shouldn't be. International politics may on many occasions be a zero-sum game while business is about expansion", said Mr. Leung Chun-ying in the keynote speech titled "Mission and Role of Hong Kong in the Construction of National Image. "Hong Kong has a unique mission and probably a more unique role in rebalancing the range of China subjects in which the international audience should have an interest...We should present the people of the world with the full range of stories of China. The real China story must come out. The balanced narrative must come out. Hong Kong should take this international podium."
"Life is not a zero sum game, where if one person wins, everyone else loses. No. We can all win. Indeed, that is how it should be. Friday Culture is a media group which celebrates cultural diversity, promotes peace and shares insightful stories, in a good-humoured, positive way. We chose the word Friday because that day of the week often ends with good conversations among friends. We chose the word culture because we believe a broad range of interests is less polarizing than just a focus on politics."Dr. Herman Hu stated in the welcoming address.
The forum was immediately followed by two panel discussions, the first of which focused on the Hong Kong perspective, with the theme of "Hong Kong in the Spotlight: Understanding a Multi- faceted City". Mr. Yonden Lhatoo, Chief News Editor, SCMP, moderated the panel with a number of guests sharing their views, including Mr. C K Yeung, Former Associate Vice President, Hong Kong Baptist University (Pre-recorded); Mr. b Ronnie Chan, Chair, Hang Lung Properties Limited; Mr. Malcolm Clarke, British Film Director (via video call); Mr. Julien-Loïc Garin, Founder and CEO, Culture-plus Asia and Dr. Allan Zeman, Chairman, Lan Kwai Fong Group.
The second panel discussion centred on telling the story of China with "How to tell China's Story in a Polarizing World" as the theme. In this section, the guests who shared their views included: Tan Sri Dato' David Chiu, Chairman and CEO, Far East Consortium International Limited / Chairman, i-CABLE Communications Limited (Pre-recorded); Ms. Han Yong Hong, Deputy Editor-In-Chief, Lianhe Zaobao (via video call); Ms. Pansy Ho, Group Executive Chairman & Managing Director, Shun Tak Holdings Ltd; Mr. Eric Li, Founder, Guancha.cn (via video call); as well as Dr. Yan Xiaojun, Associate Professor, Department of Politics and Public Administration, The University of Hong Kong. All the guests offered incisive views on the topic. The entire event concluded successfully with the closing speech by Dr. Kennedy Wong, Deputy Secretary General, Hong Kong Coalition.
Live webcast:
Friday Culture Limited https://www.facebook.com/FridayCulture
Hong Kong Coalition https://www.facebook.com/HongKongCoalition
[2021-05-31 ]